Meet the team
Anna Freitag is a Customer Service Solutions Manager at x-kom. She started her x-kom path as a Customer Advisor, so she's always on the lookout for new tools that optimize contact center service.
Dominik Krezel is a Functional Consultant at x-kom, responsible for the configuration and administration of the Genesys platform. Dominik is constantly looking to implement new functionalities.
Adam Ziecina is Head of Contact Center at x-kom. Driven by a customer-first approach, he is responsible for delivering exceptional customer care to the x-kom group's audience while making sure that the service levels provided are to the highest standard and able to set new benchmarks for the eCommerce market.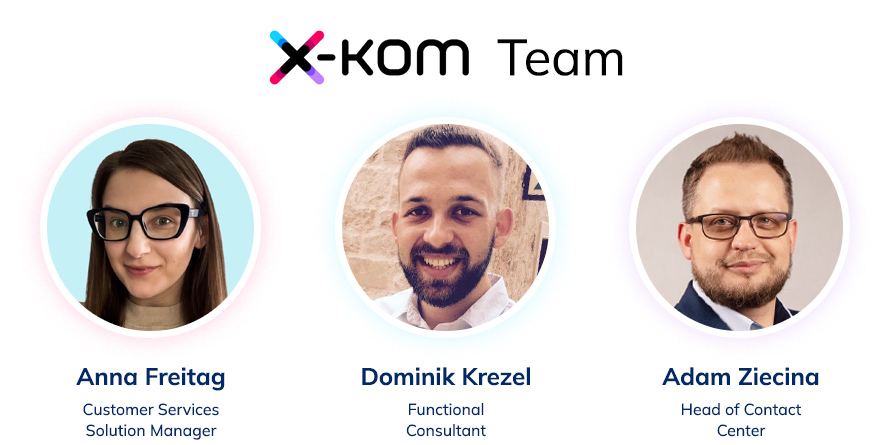 The challenge
As x-kom took over their leading position in electronics eCommerce, they realized that providing outstanding customer service was becoming increasingly challenging. Even with a large team of customer advisors and 24/7 service, the x-kom Contact Center struggled to deliver expected service levels during the peak sales season, which featured over 200,000 customer contacts monthly. By having a dedicated Contact Center for the purpose of providing a product advisory role to the customers, x-kom wanted to move their agents back to their main function. High customer demand, sales seasonality, and the specificity of the target group turned the x-kom team's attention to AI-based chatbot solutions that would help them:
Switch customer representatives back to a product advisory role by taking the most repetitive topics off their hands

Find a chatbot that takes electronics branch specifics into account and supports detailed eCommerce queries

Implement a fully configured solution that fits into x-kom's audience needs and no longer requires time and effort to build it from scratch
If we want to attract our audience, AI-based solutions are a must-have for the electronics eCommerce branch.
– Adam Ziecina, Head of Contact Center at x-kom
The Solution
x-kom's needs were straightforward, but the solutions available on the market were not meeting their expectations.
Before starting with PerfectBot, we met several companies offering AI-based chatbots solutions – most of them didn't meet our expectations, providing unsuitable solutions or simply a chatbot building platform that would still require a lot of effort from our end, said Adam Ziecina, Head of Contact Center at x-kom. Right after the first meeting with the PerfectBot team we knew that we'd found a business partner that not only understands us and what we want to achieve, but – most importantly – knows how to get us there.
PerfectBot brought x-kom:
A fully configured product supporting a wide range of topics specific for their category, designed to recognize and answer over 300 customer issues

Fully automated order status queries delivered through the webhook integration

A solution based on the Genesys Cloud CX platform, with the chatbot integrated through Genesys Bot Connector
The Results
Once PerfectBot was up and running, x-kom saw significant relief with the most repetitive queries. Providing frontline support to the customers, PerfectBot was able to reduce one third of all queries received by the Contact Center, correctly solving 93% of tickets. By correctly recognizing customer intentions, PerfectBot was able to successfully distribute contacts that required product or service advice to the relevant queues, giving x-kom's experts time to bring dedicated support to their clients.
With Perfectbot, we've automated most of the repetitive topics and were able to move our agents back to product queries that really require human assistance. Thanks to chatbot automation, our contact center agents could focus on their goals and the number of product chats handled by them increased from 60% to 80% after the first month.
– Anna Freitag, Customer Service Solution Manager at x-kom

We appreciate your responsiveness as well as your expert position in terms of the most suitable response suggestions or the way the response should be passed on to the client. We also like that you respect plain language that helps build better CX.
– Dominik Krezel, Functional Consultant at x-kom

I don't think we've ever had such a pleasant product implementation. We really appreciate the well-prepared material we worked on, the support we received every step of the way, and finally the super smooth product launch. We wonder why we didn't do it earlier!
– Anna Freitag, Customer Service Solution Manager at x-kom