As one of the world's leading helpdesks for eCommerce, Gorgias exists to put a wide variety of useful functions at your fingertips. It's designed to connect all of your customer service channels (email, chat, phone, Messenger, Facebook, Instagram, SMS, etc.) and manage them from one dashboard. One function Gorgias doesn't provide natively, however, is a chatbot.
The good news is that with their extensive app store and intuitive design, it's easy to add one. Read on to see just how simple it is to install PerfectBot, the only GPT-powered chatbot hat handles conversations directly in Gorgias chat. Learning from your FAQs and help center articles, PerfectBot studies Gorgias tickets and online store best practices to deliver context-aware responses in plain language, thanks to OpenAI technology.
Installing PerfectBot
The easiest way to connect our chatbot for Gorgias is to follow these simple instructions and start enjoying the added flexibility that it provides. If you require further details on any of these steps, don't hesitate to visit our website and check out this article.
Step 1: Connect the app
From your Gorgias account, go to Settings > App Store > All Apps, then find PerfectBot.AI on the list. Click on the Connect App button, then authorize the app. Once you've successfully installed the app, you'll be redirected to the preview page where you can test the demo version of PerfectBot. Please allow us 2 to 3 days to deliver a custom AI chatbot that's trained specifically on your FAQ content.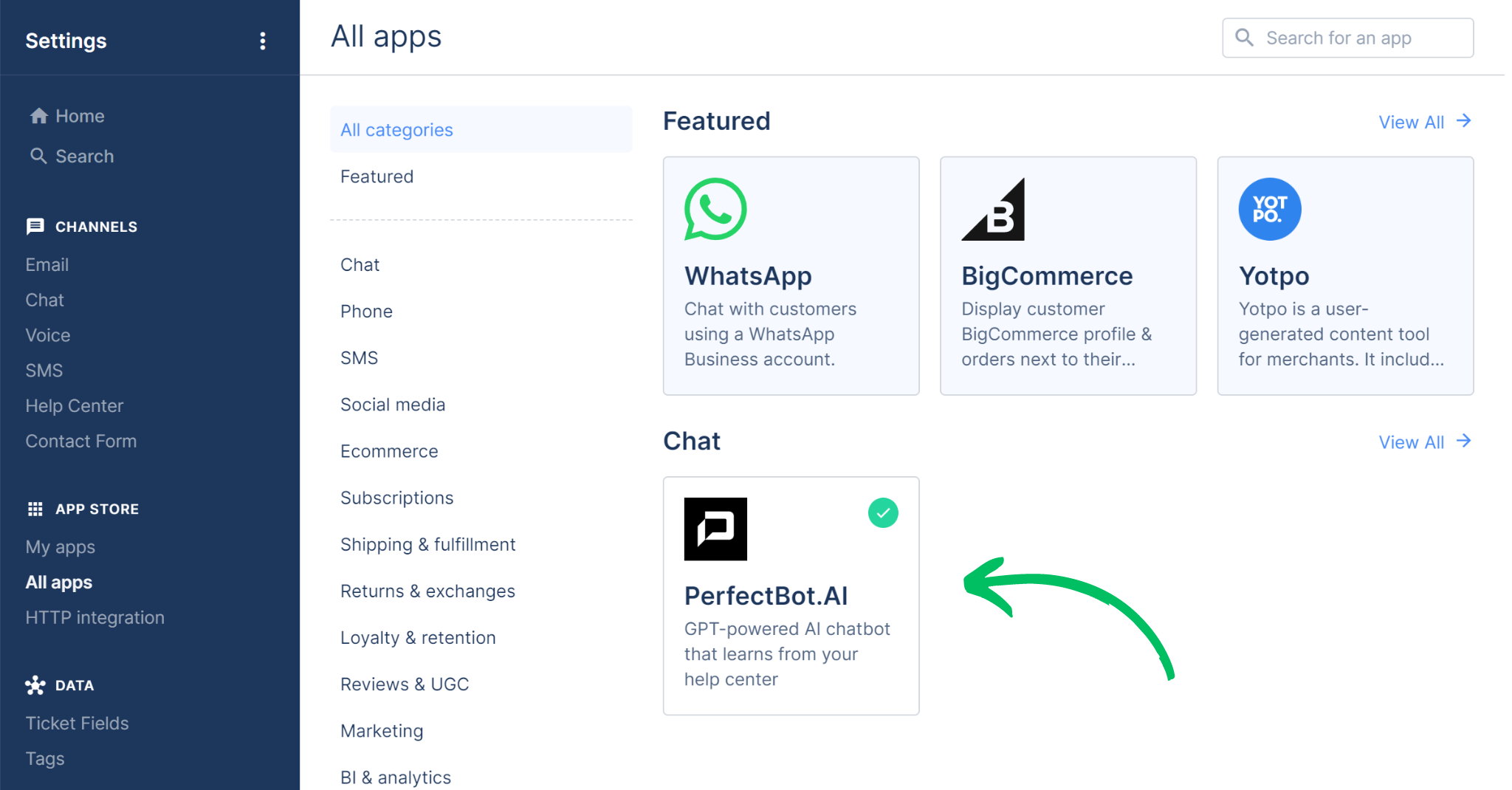 Step 2: Preview and test PerfectBot
To test your AI bot, go to your PerfectBot preview page, which you can access from the chat conversation tab. When it's time to test your AI bot, it's best to do so thoroughly using your help center questions, asking questions that are already covered in the knowledge base. You should also feel free to try different question formats, such as long sentences or simple phrases.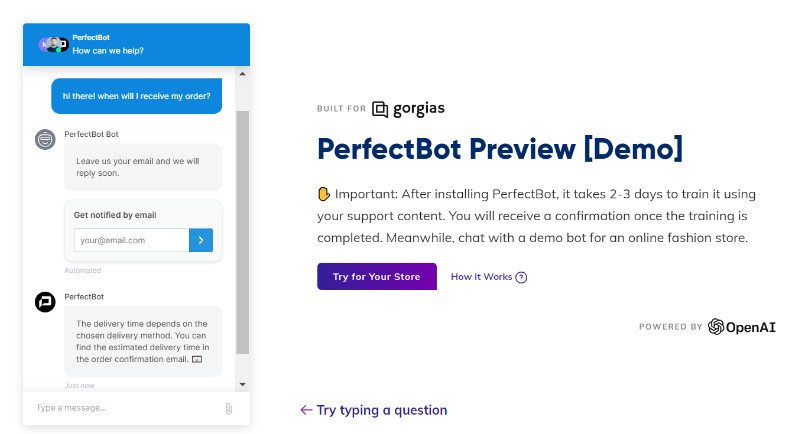 Step 3: Customize your handover scenarios
PerfectBot directs more complicated questions to your human support team. By default, the AI bot assigns tickets that need agent assistance to the unassigned pool. However, there are three different possible scenarios for ticket handover, which we recommend exploring further in this guide.
Step 4: Connect PerfectBot to your store
Once the Gorgias PerfectBot widget is set up, you can connect it to your integrated store. The simplest way to do so is to connect the AI bot to your existing Gorgias widget, which will make PerfectBot available for your customers in the integrated Gorgias widget that's currently connected to your store. To establish the connection, just provide us with your preferred Chat ID, and we will connect your bot accordingly.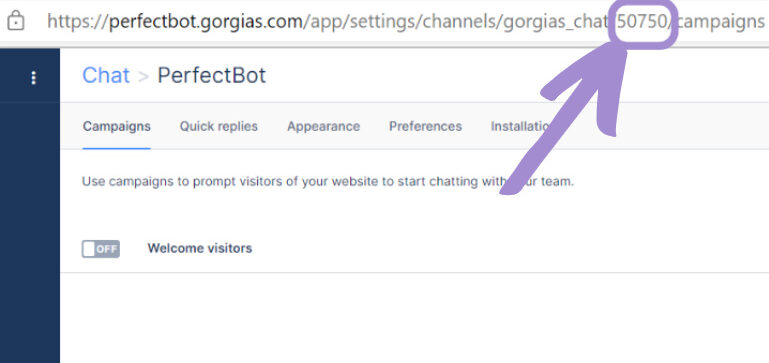 Step 5: Adjust your Gorgias widget settings
To get the most out of your AI chatbot, we recommend adjusting certain Gorgias widget features, including widget availability, business hours, quick replies, and others.
Step 6: Teach your chatbot what it needs to know
Once your AI bot is live in your Gorgias widget, it's easy to improve its content. You'll have access to the chatbot's knowledge base, which lets you edit or add topics as required. We'll also have access to your tickets, so that we can analyze them and help you to optimize the content based on real conversations.

Setting up the Gorgias widget for PerfectBot
Now you've got your GPT-powered chatbot up and running, but remember – PerfectBot is fully operational only after you correctly configure your chat widget. Here are the steps you'll need to follow in order to configure your widget settings efficiently. For greater detail, you can find a specialized article regarding this topic on our website.
Step 1: Set up your business hours
PerfectBot provides 24/7 customer support, so it's important to configure your business hours accordingly. If this isn't taken care of, the bot will stay silent during your non-operational hours.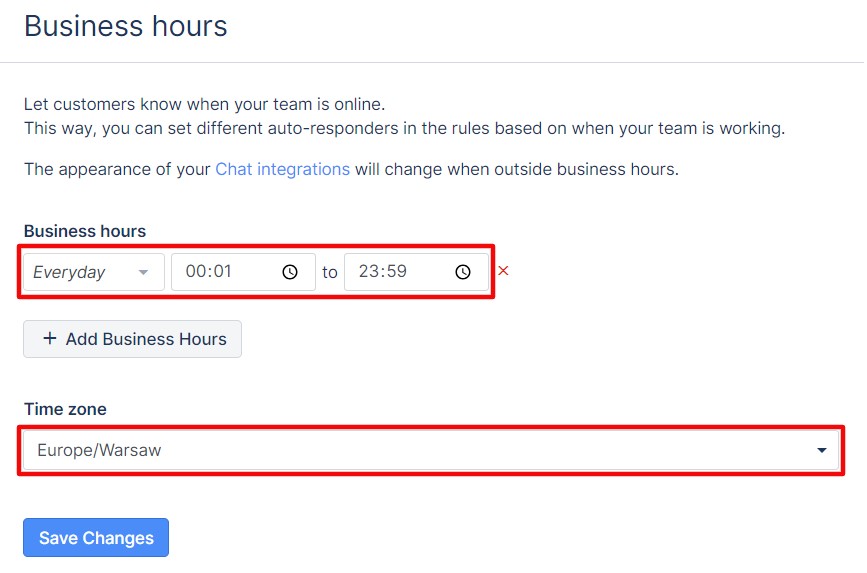 Step 2: Set availability to "Always live during business hours"
Once your business hours are set to 24/7, switch the live chat availability to "Always live during business hours." Money never sleeps, and neither should your bot!
Step 3: Set up email capture as an option
Requiring customers to give their email before starting a chat can often discourage them. Instead, we suggest making email capture optional, so customers can choose to provide their email if they prefer to be contacted that way.
Step 4: Disable redundant functions
Once your chatbot is ready to reply to open-ended questions, it's time to disable some Gorgias functions that only complicate the UX without adding value to the end user. These include the autoresponder, quick replies, quick reply forms, and article recommendation.
Step 5: Make sure your automation add-on function is running
Our AI chatbot seamlessly cooperates with the order management feature, which is designed to give you as much added value as possible. That's why we recommend leaving this function on at all times.
Step 6: Switch off the ticket assignment rule
PerfectBot should ideally take over all your new, unassigned tickets and act as a first line of contact. In the "Channels" section, remove all the channels where the chatbot is active to make sure that this is actually the case.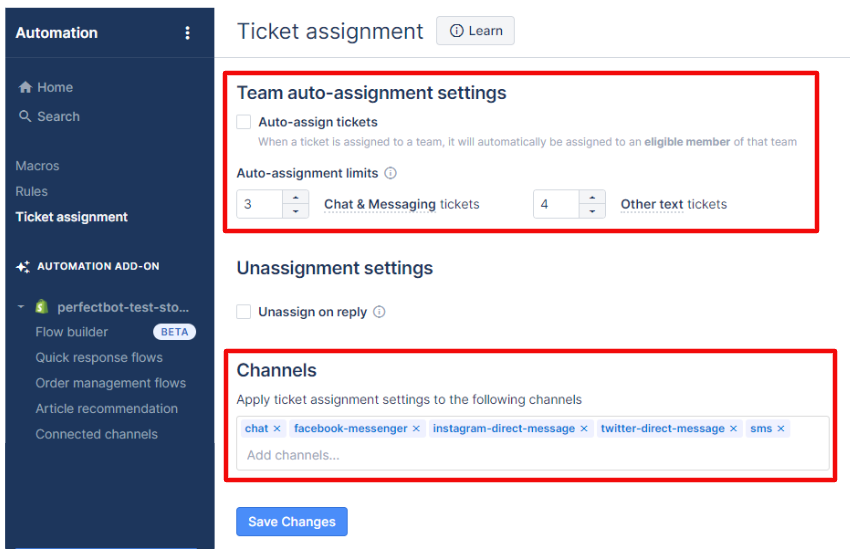 Step 7: Give your widget a makeover
Last but not least, you'll probably want to customize the Gorgias widget to match your webshop design. The "chat appearance" section allows you to set up matching widget colors, positions, chat titles, and welcome messages.
The PerfectBot advantage
The thought of adding an AI-powered chatbot to Gorgias may seem daunting, especially if you're not technically inclined. We get it, which is why we've made sure that the help center on our website is as comprehensive as possible, with specialized articles that go into depth on all the concepts mentioned in this article.
Give it a visit, and while you're at it, why not request a 30-day free trial of our AI chatbot? We're confident that once you give PerfectBot a try, you'll see exactly why it's the ideal choice for Gorgias integration.