For a long time, email was the main way customers talked to online stores. Until recently, all web shops included a contact page with a contact form, essentially just initiating email communication. Usually, this meant full inboxes and slow replies, risking customer happiness.
Slow Replies = Lost Sales
In e-commerce, slow replies mean lost sales. Customers expect fast answers to their questions, or they'll go elsewhere. Competition is just one click away.
Adding live chat is a step forward: customers get instant help during your open hours. Another step forward (and a real game changer) is implementing an AI Chatbot. It's on 24/7, giving immediate replies even to midnight shoppers.
E-mail vs. Chatbot – Face Off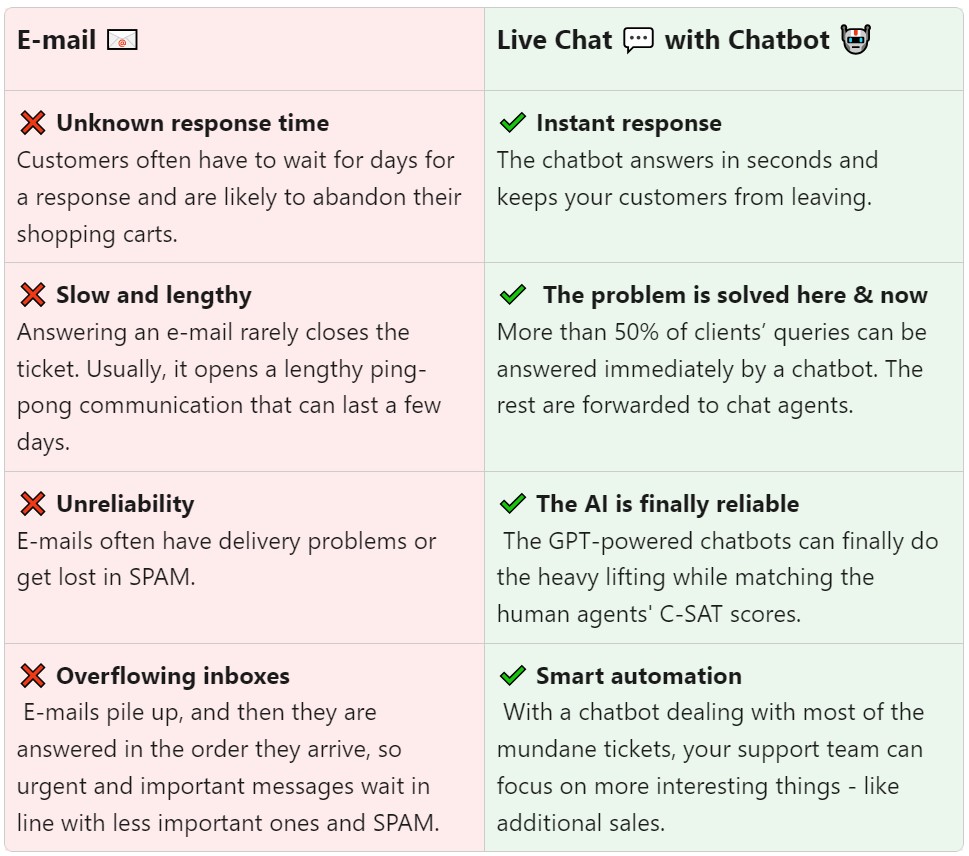 Getting Customers to Chat
By promoting live chat as the primary contact option, you can shift the usual email-to-chat ratio to favor AI-automated chats. So, make live chat the obvious choice.

Put a big "Chat Now" button on top of your contact page
Make sure it stands out as the first and preferred way of contact.
💡 See tutorial: How to make an "open chat" link for Gorgias?
Add an "open chat" link in the footer of all your pages, above any contact details
Use chat pop-up messages (Gorgias "Campaigns") to grab attention.
Campaigns open pop-up messages, that proactively appear next to the chat bubble and encourage the users to start a conversation.
In the case of customer service scenarios, we strongly recommend using them on the contact page and in the whole help center.
💡 See tutorial: How to set up a Gorgias Chat Campaign?
Add a "Chat Now" link in all your emails.
To reduce the number of email responses, add a link or button in your emails' footer that opens a live chat with your store.
To create a link to your store that makes the chat box open automatically on page load, simply add the ?gs_open_chat parameter to your URL. The resulting store URL is now www.my-store.com?gs_open_chat.
👉 Read more about Gorgias URL parameters.
Turn on the "Chat contact card" in your Gorgias Help Center
In your help center settings (Settings > Help Center > Contact), turn off the "Contact form card", but turn on the "Chat contact card" instead.


This way, your team deals with less email, and customers enjoy faster, smarter service.