eCommerce was already booming across the globe before the COVID-19 pandemic hit in early 2020, but lockdowns and store closures caused online shopping to become the number one sales channel for many retailers, particularly in the fashion industry.
This sudden increase has caused some unforeseen challenges, especially for smaller companies that don't have the right systems in place. In order to keep up with growing demand, the fashion eCommerce industry in particular is investing heavily in tools that support the customer experience, including fully automated chatbots.
This begs the question – can any chatbot ever really replicate the live chat experience? If not, could a thoughtful combination of the two provide the best aspects of both? In this article, we'll present both solutions in more detail, and consider whether combining both methods of communication provides the best of both worlds. We'll look into:
What live chat is, how it works, and what separates it from a chatbot
The pros and cons of live chats and chatbots
Use cases for live chats and chatbots
Whether a seamless combination of live chats and chatbots could be the way forward for fashion eCommerce
What is live chat, exactly? How does it work?
At its most basic, a live chat is an online chat with a living person. Having a live chat system for your online business allows your employees to do exactly for online customers what they would do for an in-person shopper – answer questions in order to turn customer visits into sales.
When visitors to your website have questions, live chat allows them to:
Click a box to say they have a question
Open up a Chat conversation with someone on your team
Have their questions answered by a relevant expert
Having access to live chat on a website is the closest you can get to having employees in a retail store. Your staff can answer simple visitor questions and turn them into buyers.
More importantly, live chats allow your visitors to get results right away, which is especially important if they've decided they want to buy an item today. This "fast answer" is the main reason people use chat, based on a survey by Econsultancy.
What makes live chat different from a chatbot?
Simply put, live chat agents provide human-to-human service that is ideal for resolving complicated, multi-step issues or problems requiring strong security. Chatbots, on the other hand, use AI to provide convenient self-service through automated conversation flows – customers can quickly solve simple issues at any time of the day or night without having to wait.
Live chat or chatbot? Pros and cons
Some of the most important benefits of live chat include:
Convenience. Visitors to your website want a quick way of getting in touch that doesn't involve delay or disruption to their browsing journey, and live chat fits the bill.
Increased customer satisfaction. The most important priorities for consumers are getting through to an agent quickly and resolving their question. A live chat puts customers directly in front of the person they need, directly from the page they were browsing.
Higher web sales. Live chat turns browsers into engaged users, and engaged users who have a supported web journey are more likely to buy. If your employees can be there to assist and nurture leads, you can steer more prospects to purchase.
A more personalized experience. With live chat's built-in analytics, you can see user details and offer informed, accurate help throughout the chat session with real-time, retail-focused insights on the customer and their activity.
Drawbacks of live chat include:
Time zone issues. Visitors to your website might need customer service at any time. If you can't provide it, you might disappoint some of them.
Generation gaps. Some people (particularly those aged 55 and up) are accustomed to receiving customer service help over the phone. As a result, live customer chat might feel impersonal or even robotic to them.
Response delays. No matter how skilled they are, every human operator can only handle one customer at a time. If the number of employees on a shift isn't sufficient to handle a large number of calls, some customers will have to wait – and not all of them have the patience to do so for long.
There are also plenty of benefits to a chatbot, with some of the most important being:
Constant availability. Unlike humans, bots can respond to customer questions instantly around the clock – without costing you extra.
Speed. Chatbots are just plain faster at answering than human operators. You can ask anything from a bot and get an answer in just a few keystrokes.
Data collection capabilities. Chatbots can communicate with your audience and gather information that you can access by integrating the chatbot with your customer relationship management (CRM) software.
Potential drawbacks to using a chatbot include:
Issues with understanding natural language. Chatbots have come a long way, but most still can't adapt their language to match humans. This means that slang, misspellings, and sarcasm are often not understood.
A high potential for misunderstandings. Chatbots are programmed to answer general questions with answers that can be found in a database, so if a customer asks something outside of this narrow list of questions they will likely confuse the chatbot.
Maintenance. Chatbots need frequent optimization to make sure they are giving the right information to customers and representing your brand appropriately. As your user demand and business priorities shift, you'll need to update your chatbot accordingly.
Use cases of live chats and chatbots for eCommerce
Sephora
When it comes to an example of how live chat can help a business, multinational personal care and beauty products retailer Sephora is a case in point. Sephora's consultants pride themselves on their detailed product knowledge, which has helped the business stay in touch with customers and foster sales during the pandemic and associated lockdowns.
Since January 2020, clients who were on the fence about a product and needed advice can take advantage of a service called "Expert Chat," which involves advice from make-up and skincare experts.
Customers can get advice on products based on skin type, budget, and more. As a result, Sephora increased the average order value by 25% after the implementation of Expert Chat.
LPP
For an outstanding example of the difference a chatbot can make, look no further than LPP, a Polish fashion conglomerate whose brands include Reserved, Cropp, House, Mohito and Sinsay.
Their customers are already benefiting from the conversational assistance of a chatbot implemented in cooperation with PerfectBot, which makes it easy to solve the 200 most popular problems reported by customers of online stores.
The chatbot solves 70% of questions correctly on all matters, and because it can answer open questions, it has significantly improved service for a rapidly growing number of customers.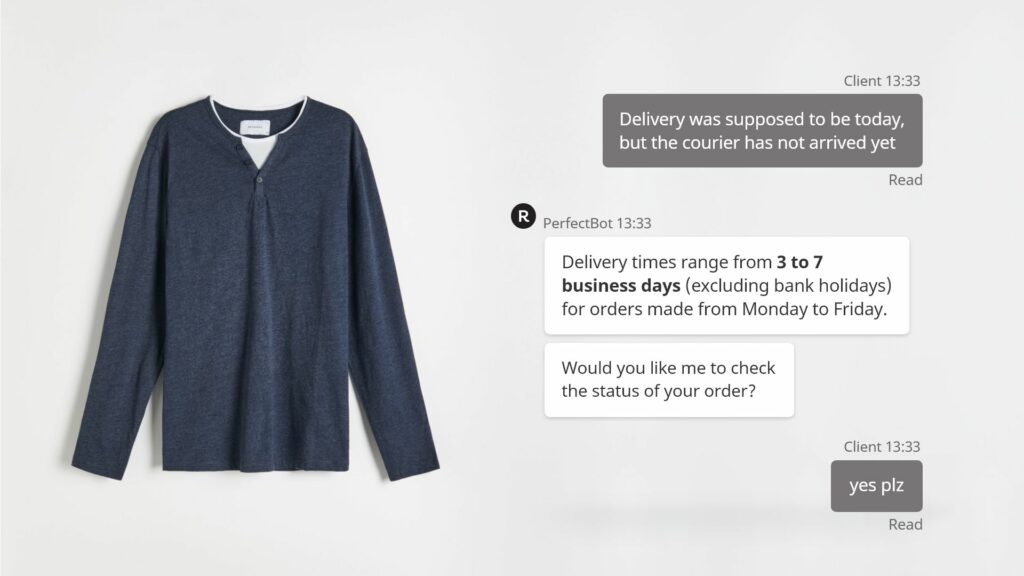 IKEA
The second-generation chatbot developed by PerfectBot for global retail giant IKEA answers questions in 400 topics, including orders, deliveries, payments, complaints, returns, promotions, and more.
Unlike first-generation chatbots, the IKEA chatbot is able to answer most customer questions correctly in natural language, while forgiving typos, maintaining the context of statements, providing parameterized answers, and parsing long questions.
Thanks to this, the chatbot is able to significantly relieve IKEA's live chat operators, including consultants only in difficult conversations. The chatbot is already holding 5,000 conversations a day, with more than half of incidents correctly resolved automatically – and it's only getting better as it is trained with new knowledge that increases its effectiveness.
Can a live chat and a chatbot work together?
Given that most shoppers are making their purchases after work (the peak time of day for eCommerce occurs between 8pm and 9pm), there's a strong case to be made for chatbots in the retail sector. But as we've seen, chatbots are not quite ready to completely replace live chats. Could the ideal solution be a combination of the two?
Consider the ways. Live chat from 9 to 5, and a chatbot handling queries during the graveyard shift. Alternately, a chatbot fielding basic queries, with human staff waiting in the wings to tackle more challenging questions. The possibilities are nearly endless, and you're really limited only by your imagination and by chatbot technology, which is improving all the time.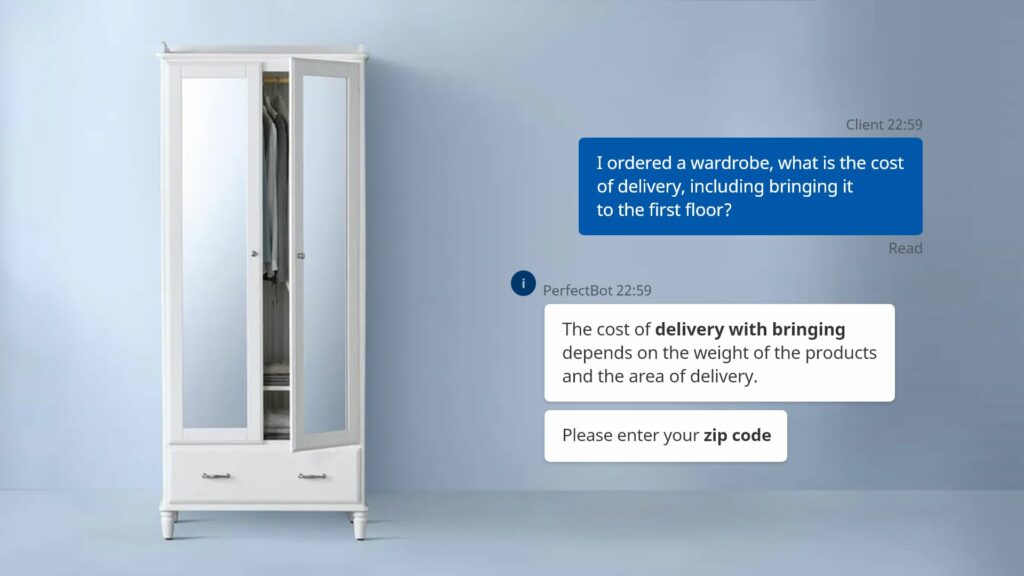 The PerfectBot advantage
When it's time to pick a chatbot that fits your needs, we're confident that you'll find exactly what you seek with PerfectBot. Our solutions are built from the ground up for eCommerce, while also providing the most human-like interaction possible.
Even more importantly, PerfectBot provides 250+ chat automations ready to use in specific eCommerce categories such as fashion, beauty, sports, and books. It's 100% compatible with market-leading chat platforms (LiveChat, Genesys), so the integration process is quick and easy.
To find out more about what PerfectBot can do for you, get in touch with us and request a free trial.