As you read this, there are hundreds of chatbot providers on the market. The hype surrounding Open AI's large language model chatbot ChatGPT means there will probably be several hundred more released by the end of the year. How can an eCommerce retailer that's decided to go the chatbot route possibly know which one is right for them?
It's important to remember that not every chatbot is created equal – the key is to find a chatbot that is specifically created with online sales processes in mind. To save you some time and energy, we've created a list of the solutions that best fit the bill. The contenders include:
PerfectBot
Chatbot by LiveChat
Chatfuel
Ada
Genesys Cloud CX
Keep reading to discover a few pros and cons about each one and see what they cost to set up.
What are the benefits of chatbots in eCommerce?
The utility of chatbots in eCommerce can no longer be denied, with some of the most important benefits including:
Constant availability. Unlike humans, bots can respond to customer questions instantly and around the clock – at no extra cost to you.
Speed. Chatbots are just plain faster at answering than human operators. You can ask anything from a bot and get an answer in just a few keystrokes.
Data collection capabilities. Chatbots can communicate with your audience and gather information that you can access by integrating the chatbot with your customer relationship management (CRM) software.
5 of the best chatbots for eCommerce
Chatbot #1: PerfectBot
An effective AI-powered chatbot that can be set up in one day, PerfectBot is specifically optimized for eCommerce and automates over 150,000 conversations every month for leading eCommerce brands.
Pros:
PerfectBot is ready-to-use, with +250 chat automations, templates, and an AI model built in. This allows it to be installed and run in a day or less.
PerfectBot arrives pre-customized for specific e-commerce categories (Fashion, Beauty, Sports, Books, etc.).
PerfectBot is specially designed as a chatbot for Gorgias, LiveChat and Genesys platforms.
PerfectBot provides a transparent method of measuring chatbot effectiveness, based on a manual review of up to 40% of conversations.
Cons:
As of this writing, PerfectBot is only available for 4 product categories – but more are to be rolled out soon.
PerfectBot is free to try, while $199 gets you up to 1,000 chats per month and $399 gets you up to 2,000.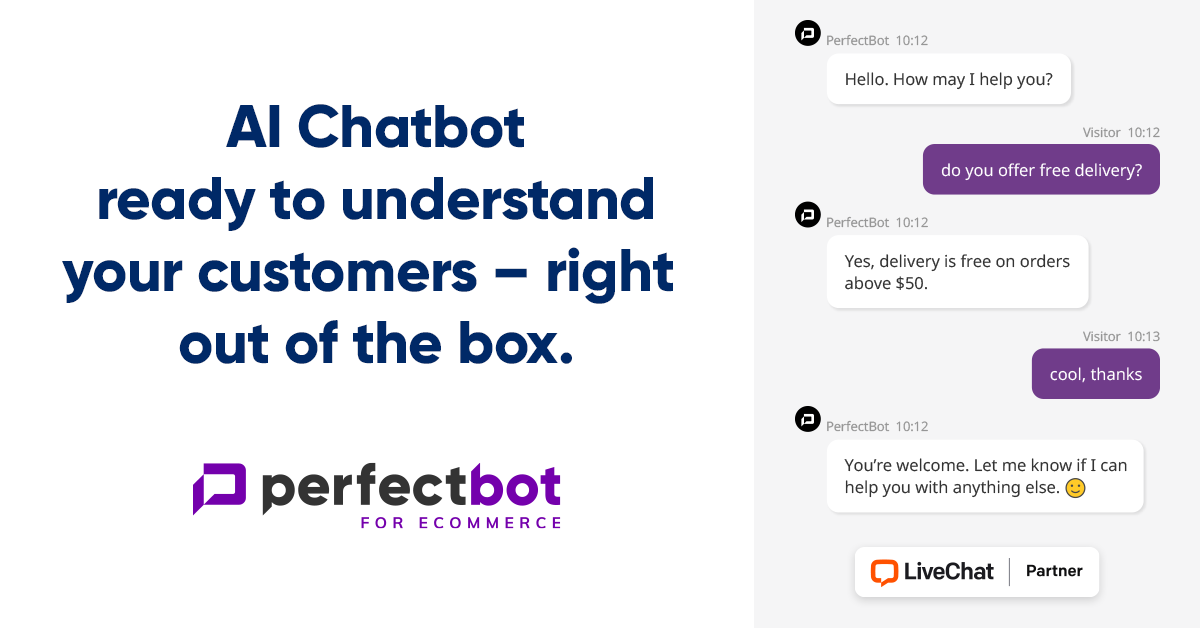 Chatbot by LiveChat
Chatbot bills itself as an all-in-one platform to build and launch conversational chatbots without coding. And because it's brought to you by the people at LiveChat, it's designed as an all-in-one solution that integrates easily with human customer service agents.
Pros:
Chatbot can support web chat as well as Facebook's popular Messenger, giving it additional versatility.
If the chatbot needs to escalate an issue, it can do so in real time to an agent sitting at a LiveChat console. If that's not the best course of action, LiveChat can also escalate to its built-in ticket system.
Cons:
Chatbot is not a ready-to-use chatbot, but rather a platform to build your chatbot from scratch – a process that will require investments in time and effort, plus a team with adequate skills.
Chatbot is pricey compared to alternatives on the market, but some users argue that the enhanced functionality and connectivity are worth the higher price.
When it comes to pricing, unlimited active chatbots, full integration, advanced reporting, and data protection will run you $424 a month, billed annually (or $499 a month billed monthly). Cheaper plans are available, but they don't include the full suite of features and lack connectivity.
Chatfuel
Chatfuel boast that they're "the world's leading chatbot platform for Facebook Messenger." And according to their homepage, 46% of all Messenger bots on both Facebook and Instagram use it already. Chatfuel is a powerful chatbot builder that focuses on automation and versatility. Its main focus is building bots that can do it all, from answering questions to collecting emails. Their approach allows you to customize every part of the chatbot, which makes it great for creating a personalized customer experience.
Pros:
Detailed analytics reports are provided, and third parties are easy to integrate.
Chatfuel is quick and easy to set up, with no coding required.
Customer onboarding is deliberately simple.
Cons:
Chatfuel is designed for Facebook Messenger and Instagram, and doesn't integrate quite as seamlessly with other platforms.
Chatfuel is a rule-based chatbot, so its capabilities are limited – it can't understand a lot of questions and requires customers to search for answers.
Some users report that Chatfuel is too dependent on third-party integrations.
Chatfuel offers two pricing plans. You can automate on your own for $11.99 a month or get custom enterprise solutions built for you for $199 a month.
Ada
Ada refers to itself as an AI-powered customer service automation platform that helps you resolve the greatest number of queries with the least amount of human effort. Ada is designed to help you scale support without increasing headcount, empower the people behind the automation, and "treat every customer like a VIP." Ada boasts machine learning and client data protection capabilities, and you can also integrate with an API to recommend items, book ahead, or add any other details you want to your chatbot.
Pros:
Easy bot setup with a drag-and-drop function to start basic chatbot conversations.
The Ada team is adding new features all the time and rapidly catching up to other chat platforms in terms of features offered.
Cons:
Building a chatbot from scratch is both costly and time-consuming, as it involves AI training, flow building, and writing chatbot answers from scratch.
Setting up a staging and testing environment can be challenging.
Ada's pricing details are unavailable at present, but the cost is described in reviews as competitive with similar alternatives.
Genesys Cloud CX
The Genesys Cloud CX platform is designed to help small and medium-size businesses unify information across teams, tools and interactions, helping them reach customers anywhere, anytime, on any channel. Businesses can use Genesys Cloud CX as an all-in-one cloud call center application and extend its value with hundreds of packaged third-party integrations and applications. It also offers real-time dashboards, simple management tools, and analytics.
Pros:
Genesys Cloud CX is a complete CCaaS (Customer Center as a Service) platform that includes voice, chat, email, and social media.
The solution easily supports web chat and Facebook Messenger.
Genesys Cloud CX has extensive reporting capabilities that allow businesses to monitor the work of the chatbot and agents and manage their efficiency and quality.
Cons:
You can only buy Genesys Cloud CX through a local partner or reseller, which requires a periodic contract (usually with a commitment to a selected service level).
Genesys Cloud CX is aimed primarily at the enterprise market.
Escalation from the chatbot typically takes place in real time to the agent sitting at the platform console (Genesys Cloud CX or Livechat). Livechat can escalate to the ticket system built into Livechat, but Genesys Cloud CX is unable to.
Genesys Cloud is pricier than the other solutions we've covered in this article, with plans ranging from $75 per month for a license with only voice support, to comprehensive plans (digital, WEM, and voice) for $150.
Adding a chatbot to your online store
When you reach the conclusion that it's time to add a chatbot to your online store, the simplest and most reliable course of action is to partner with a chatbot vendor, who will then install the chatbot in your online store. There are two ways to do this:
You can choose a complex solution (chat software with a chatbot included).
You can install a live chat solution first, and then add a chatbot application from the live chat software's app store.
The PerfectBot advantage
When all the pros and cons have been totaled up and all the pricing plans have been reviewed, we're confident that you'll come to the conclusion that PerfectBot is the ideal solution for your needs at the right price.
To see for yourself why PerfectBot offers a better chatbot for the money than any of our competitors, contact us and request a free trial.